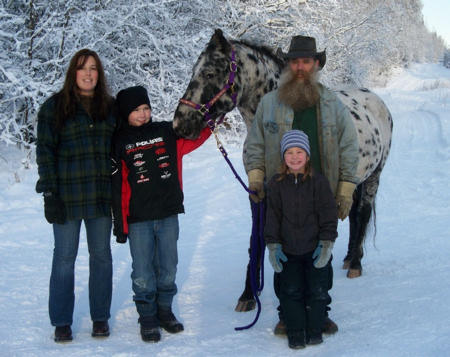 Bret and I have always carried a love for horses but it took us finding each other to rekindle and make our dreams of owning horses a reality. We were first introduced to the American Bashkir Curly Breed in 2003, we were so intrigued by this breed in so many ways we decided the American Bashkir Curly was the breed for us.
Look for us on Facebook and Instagram
Dakotah's Midnight Moon - A Story Of Hope
(UPDATE June 2021 - Moon IS for Sale!)
I want to share with all a little story of Hope. Moon our 2 yr old filly while at the trainer went lame her rear right leg she could not bare weight on and was in severe pain she didn't want to move! After a vet check it was discovered that there was not enough cartilage in the knee, it had not developed enough for whatever reason and it didn't look good. So we managed pain and tried a drug to hopefully stimulate cartilage growth and after 30 days the x-rays revealed no improvement it wasn't looking good for Moon. We talked about options with the vet 1) Hyaluronic acid and cortisone, least help with the cartilage but best option for pain management. 2) Platlet Rich Plasma, could help cartilege growth but least help for pain. 3) renovo an amniotic derived stem cell treatment (they harvest Moon's own stem cells from the joint mix with something and inject into the stifle. Listed in least to most expensive, least helpful to most hopeful. Yet still reasonable considering the alternative which would be to put her down because the pain was so severe, she was losing a tremendous amount of weight! We had one shot at this so after reading all I could find we opted for the renovo stem cell treatment which had the highest chance of success we felt.
The renovo stem cell treatment would need to be done again in 6 months and also in her left stifle, so the cost is definitely adding up butttt. 1 week after her 1st injection she was walking! Still slightly favoring but walking well. 2 weeks we put her on pasture with a buddy and she was so happy to be out of isolation and stall rest I gasped as she she started to Buck and hop around! I was so afraid she would hurt herself and all would be for not but every day she improved and she was getting caught racing across the pasture bucking and playing happy to be able to move without pain I'm sure. Still we were guarded but hopeful. August 28th was her first treatment, September 26th almost 1 month there was hardly noticable swelling, and no heat and she was moving pretty normally. I sometimes thought she appeared to be favoring that leg in a resting position while she eats but I couldn't be sure. We had our first follow up and were so pleased to find her completely sound! Moon was given a second dose split between both rear knees and continues to be sound today. 6 months later all is looking great!!! She has not had any pain meds since the first day after her first treatment, she has regained her weight and the atrophy is gone replaced by muscle gain. Moon will go back to training after a final vet check in June 2021. For now we are keeping Moon! We share this story to inform people of this treatment used on people and animals alike. Another successful outcome and Moon will have the opportunity to live a full life.
| | |
| --- | --- |
| | |