MEAD'S DAKOTAH DEAUCE
05/1998 -1/28/2022
PROFILE:
SEX: Stallion
ABCR# 2387
SIRE: Big Bucks ABCR# 1886(f)
DAM: White Dove ABCR# S-203
HEIGHT: 14.3HH
BORN: 05-1998
PLACE: Tolna, ND
CURL TYPE: medium curl, short curly mane, spiral medium length tail
CURL GENE: untested suspect KRT25 +/-
PEDIGREE: Damale Aishihik
BREEDER: Joseph L. Mead
COLOR: Leopard w/Black spots
GAITED: YES, Indian Shuffle
LOVE AT FIRST SIGHT
Mead's Dakotah Deauce, born a twin, was meant to be a part of our Family. We would like to think of it as fate how Deauce came into our lives.
It was shortly after arriving in Alaska that this young beautiful leopard curly stallion caught Bret's eye for the first time. Deauce was walking alongside the highway with 3 young girls on his bare back! Unaware Deauce was an American Bashkir Curly Horse, Bret had to stop and meet him. His first thoughts were "WOW now that's a stallion!" He said he felt an immediate connection with this amazing animal and thought one day he would be his. Bret and I met a few years later and a few years after that we met Deauce again this time together. He was then owned by wonderful friends of ours and we expressed our interest. In 2006 the dream and honor of owning "Mead's Dakotah Deauce" became a reality. With great happiness and excitement we welcomed Deauce to our property and decided on "Promise Land Curly Ranch" so named for the promises this property held for Bret and his family.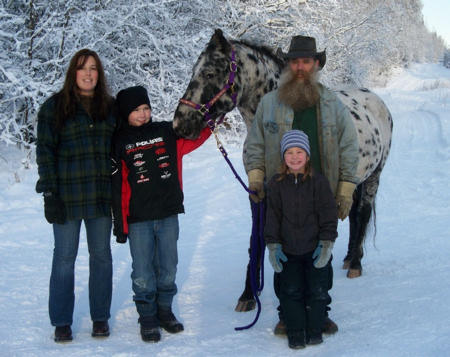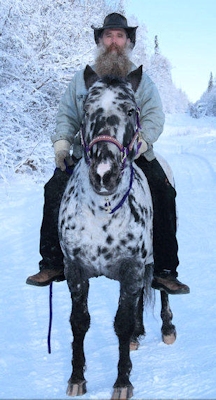 Deauce was the gem of our ranch and we enjoyed many years with him. He was a gentleman in everyway whether it be with us, our children, mare/s he was breeding with or an admiring stranger. I believe with all my heart Deauce was one of a kind and we trusted him completely. We trusted him to look out for our children and watched him be ever so careful with them. Never bumping them or even touching them except to smell and accept loves from them. He was a horse we could leave our children with and know they were safe. He was a horse well aware of the needs of the humans around him. Young, old, handicapped or otherwise it was his sixth sense, he just knew what they needed from him and he willingly obliged. I've never been a good rider and have taken a few spills. Yet I never feared riding Deauce, because I knew he would do all in his power to keep me safe despite my limited ability. I know some people would say that is reckless, careless even niave but he was just that way. He took exceptional care with us and our children. It was a special beautiful bond he developed with his people. He was very intuitive. Again he seemed to sense the needs of those around him and behaved accordingly.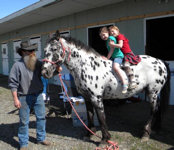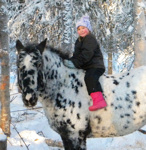 Deauce was quite the Casanova when it came to the mares. Never did he pay them any mind even turning his head away until he was given permission. Even then he could easily be pulled away with a word or a touch. Always gentle never rough nor did he bite, instead he seemed to "coo" to the mares as he approached, asking permission.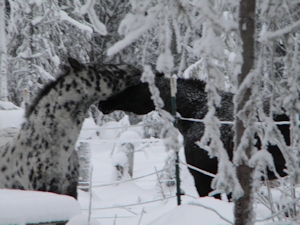 He also did an amazing job of raising his foals. Whenever possible we would leave him with mare and foal, as did the previous owner. It was great fun to watch him play and teach them. At his previous home he charged through an electric fence to chase away an intruding grizzly to defend his mare and foal driving the bear away. He and Bret had their adventures riding into moose camp 14 miles over rough varying terrain and river crossings and did such an amazing job! He was extremely clever and curious, always able to think his way through a situation.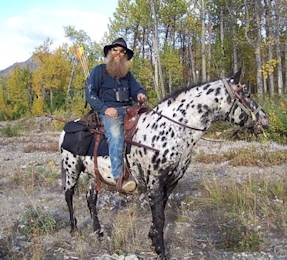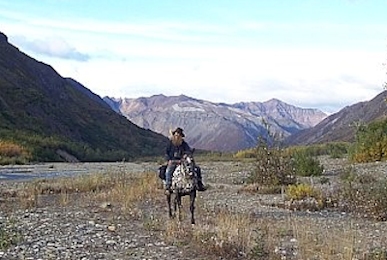 We showed Deauce for the first time in Alaska at the Mother's Day Parade of Stallions at the Palmer fair grounds. Not sure how he would respond to the crowd of people (he was a country boy) we choose to show him in hand. As we ran him around in the arena he was a bit shy at first but as he realized the crowd, clapping and cheering was for him you could see him actually puff up and begin to prance almost. HE LOVED IT! That boy would do pretty much anything asked of him and then some! He put his heart into it. He was not without a sense of humor though and took any opportunity to mess with us and play with our zippers.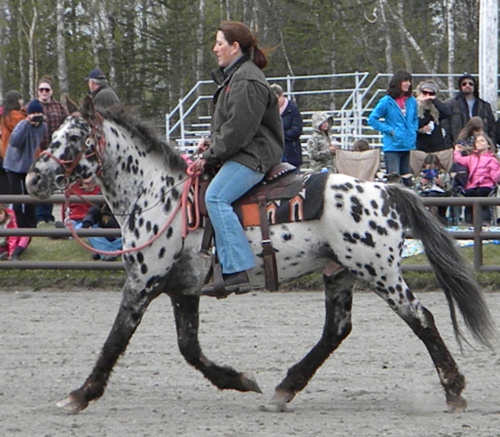 Deauce was incredibly patient and forgiving with us as we learned. We could go on and on about how wonderful he was and his silly antics but there is not enough space. What I can say is Bret, myself and our family feel so blessed to have been a part of his life.
Mead's Dakotah Deauce decided it was time to go January 28,2022. He will forever be greatly missed. He was without a doubt the best horse ever! Gone but never forgotten. He will forever hold a special place in our hearts!