American Bashkir Curly Horses - Fun, Friendly & Hypo-allergenic!
Welcome to Promise Land Curly Ranch, owned by Bret & DeAnna Hamrick in Grand Marais, Minnesota.
We are quality breeders of the American Bashkir Curly Horse, proven to be hypo-allergenic to many who suffer from severe equine allergies. Not only that but they offer many other attributes that we find extremely unique to any breed of horse; gentle & docile temperament, strong & hardy to withstand the extreme cold temperatures of rugged Alaska, big solid bone to carry any size rider and intelligence that is unmatched and stellar presence and eye catching movement.
To top it off, here at Promise Land Curly Ranch, we stand one of the most rare of the Bashkir Curly breed, *Mead's Dakotah Deauce, a superior quality leopard bashkir curly stallion. Deauce is one of just a few leopard curly stallions in the world. Deauce is a powerhouse of strength and beauty while trustworthy enough to handle pony rides for our children.
What we wish to accomplish with our breeding program is to stay true to the fine qualities already established within the American Bashkir Curly pedigree by old time breeders with lines from the Dameles and Joe Mead and others who produced such wonderful curlies. We believe the American Bashkir Curlies are a "can do horse", meaning they can do anything you want them to do. A horse as strong and hardy as their wild forfathers, one that can go all day and then some, easy keepers and great companions. Curious problem solvers more willing to confront an issue than turn and run. Strong solid feet and sure footed and nothing short of the best attitudes. These horses never cease to amaze us with their intelligence, beauty and attitudes, they truly are therapeutic and something to treasure.
Each year we offer just a few curly horses for sale. If you would like to be put on our foal announcement list, please email us. Bret and I would like to invite you to browse our website and meet our Bashkir Curly Horses. Feel free to email us with any questions you might have about us, our horses or bloodlines. We are happy to assist in any way.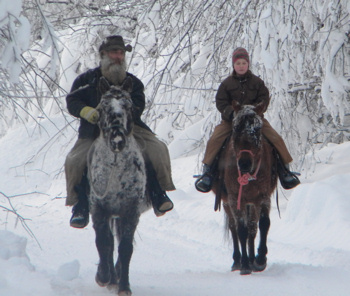 Bret & our stallion Deauce and our daughter Tyler who is 9 years old on Deauce's filly, Kona. Tyler trained Kona all by herself. A testimate to the temperament of Deauce's offspring!